Note from BW of Brazil: WTF?!! I just became familiar with the term "blackfishing" a few days ago. Doing a little investigation and I find that it is defines the practice of people using various techniques, such applying darker makeup, wearing cornrow braids or hairstyles associated with person of African descent, or even undergoing surgeries that enhance their figures, all, apparently in an attempt to look like black women. The debate over cultural appropriation has been going on in Brazil for a minute now, as have discussions over the usage of blackface. While the latter is outright absurd and should be prohibited given its racist history, the second is a little deeper. Why would people from a race that is considered the global standard for beauty want to adapt the physical traits of the people considered the least attractive on the global scale? Black people have been ridiculed for centuries for having dark skin, kinky hair, wide noses, thick lips and in the case of black women, more curvaceous physiques.
While the people, mostly women, who are adapting the styles and techniques are quick to argue that they have the right to experiment with any look as they please, the question remains, why do you want the look but have no desire to recognize your ability to flirt with the "exotic" and attract compliments for these looks when said characteristics attract insults for the people who have don't have the option of putting on or taking off blackness? Why don't you recognize the struggle and exclusion of people who often face discriminatory practices for naturally having the features that you apparently admire?
I got another question for those who think black characteristics are so cool as the "flavor of the month": If you decided to maintain your infatuation with "coisas do negro" (black things), would you keep rockin' these looks if the establishment started excluding you, making disparaging remarks about your new look and your social status started to decline? You know, the sort of treatment that black folks have ALWAYS had to deal with. Love to hear a response to that, but in the meantime…Check out Ana Carolina Pinheiro's take on this issue below.
The wave of white women blackfishing and wanting to be black in the summer
Cultural appropriation among women is an example of lack of sorority.
By Ana Carolina Pinheiro
In summer, there is always a trend, be it a sport, a different ice cream or even a chewing gum song. But this year a 'fashion' that has been going on for some time has gained momentum and moved the social networks: white celebrities appropriating features and elements that are part of black ethnicity and culture.
Quite tanned skin, pouty lips and/or afro hairstyle. These were some of the bets that models and influencers used to make the feed with the face of summer. And you see that this trend even has a name, did you see it? It's blackfishing, which happens when non-black people take over Afro-culture items, using social networks to self-benefit and even pretend they are miscigenadas (mixed).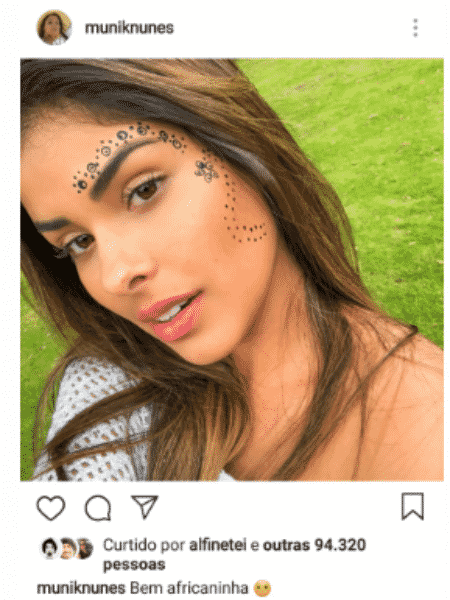 Former BBB (Big Brother Brasil, Globo TV reality show) Munik Nunes posted a selfie of her face with ethnic face paint and wrote: "bem africaninha" ('quite African'). The actress Gabi Lopes and blogger Bianca Andrade decided to wear the box braid style and, coincidentally, improved on the saturation of the photos with the new look, leaving their skins a few shades darker.
Actress Gabi Lopes and blogger Bianca Andrade
Both Gabi and Boca Rosa had worn African hairstyles before, and several web surfers, mostly blacks, warned in their profiles that this was cultural appropriation, which happens when a dominant group uses elements of a culture different from its own and usually oppressed by society. It seems that they didn't understand or didn't want to understand.
Bianca Andrade even posted a photo of her voluminous hair after removing the braids, with the caption: "the freedom to be a thousand Biancas in one". The discussion in the publication's comments was inevitable, as several people, mostly women, felt uncomfortable with the blogger's new attempt at appropriation. On the other hand, some followers also came out in defense of Bianca and also questioned the fact that some women are attacking another woman. But let's face it: feminism teaches us about having empathy and creating non-violent or competitive relationships, but in this case, we cannot forget that the one who didn't put herself in the shoes of women with different racial experiences was the YouTuber herself, who even wrote in a comment: "What I know is that I never cursed one of these people in my life! People get angry on their own" – as if the only way to offend a person was by cursing and not taking action, for example.
Now, you may be wondering, "But Gabi and Bianca shouldn't have done this to pass themselves off as black, right? They just might think it's beautiful…" Really, I don't believe that their idea was to become black, really because giving up the ease of being a white person and to be accepted with whatever hair you want, no one wants. So, I see it as a convenient appropriation. That is, they choose some items from our ethnicity and culture, such as the braids and the tanned skin that is most wanted in the summer, only that they empty them of meaning and use them without suffering with the negative part, which is the prejudice. After all, they are protected by privileges, unlike blacks.
The braid, for example, was used by black women from various African countries to represent marital status and even region of origin. Today, these Afro hairstyles continue to serve as a source of identification, resistance, and connection between black people and their roots. But unlike whites, Afro-descendant women and men are still discriminated against for using something that is part of their history.
Comments above
ingridbianca: It is funny that Taís Araújo has suffered offenses precisely because she has curly hair and she is being praised. How strange is that? Black things are cool, it's just not cool to be black.
xxnocrybaby: The "feminists" themselves attacking a woman who is free to wearwhatever she wants.
itspriiferreira: I've been with you since the tide but this photo was too much! Really because the Saturation is at the limit. Only we know how hard it is to carry the color and the hair. Having only what is good about blacks is so good, wide hips, a big butt with a thin waist, a fleshy mouth, almond eyes…now hair without definition is not a question of being whoever you want it to be. You with this number of reach could leave another thought! NO, you can't just throw things in the air because you are INFLUENCER and here it's your network where women praise you and in my profile that I'm real like this and many other girls are rude!!!!
So the question goes beyond a non-black wearing braids, but rather that she understands the importance of the element she is wearing, besides the simple fact that she thinks it's beautiful. It is worth remembering that when we are talking about a public figure that influences a lot of people, "demanding" common sense actions that don't offend anyone is much bigger and necessary. After all, they must have responsibility for the impact of their publications. How many girls may have been left with shaken self-esteem and wondering, "Why can she braid and receive so much praise, while other black women are being offended for wearing the same hairstyle?" Or is it only important that they feel beautiful regardless of what it can generate in other people?
If we can draw a lesson from this story it is that when someone says they felt offended by something you did, stop and think about what needs to be done so as not to increase the discomfort of the other. To find that the problem lies in whoever "complains" and put their personal interests and desires above the ramifications of structural racism or another social problem is not the best way.
So, what's your take on this? Do you know other cases of cultural appropriation and blackfishing? So, tell us in the comments or if you prefer you can send an email to anacarolipa16@gmail.com or send direct to Instagram, of which I would love to talk.
Kisses,
@Anacarolipa
Source: Capricho